1. Her Life and the way out of Germany
Paru was born in Germany in 1954, where she married and had a son. She studied English, linguistics, literature, geography and philosophy at the Free University in Berlin, after which she taught at grammar schools in Berlin and Munich. It was after she made a miraculous recovery from an incurable disease that her life took on a completely new turn. She began studying again, but this time the subject was her-/the"self". After some years doing this she decided to follow her inner voice and went to live in Spain, going on studying and later starting Das Zelt, a small meditation centre for individual and group work exploring consciousness.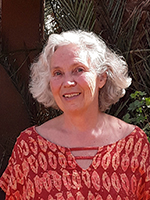 2. To Morocco
Her inner voice led her to come to Morocco after seven years in Spain. Das Zelt became Dar Paru, a healing centre and guest house in a desert oasis. She has been living here for the last 16 years, working with individuals and groups, as well as welcoming other teachers with their groups. She also welcomes people who just want to experience a beautiful oasis in the desert.
3. It's going on
Realizations, ... Healing in the desert
Paru is going on learning. Until today. From her life here in the oasis, from the work with her clients/students and, for some years now, again with a teacher: with grandmaster Zhi Chang Li in 'Silent QiGong - Ben Neng - the inner healer'. The gift of existence to us is that we have the opportunity to learn - until the end of our lives. What Master Li calls self cultivation is for her to become truly human with all the inherent possibilities. To heal - here in the desert.